Oakland Raiders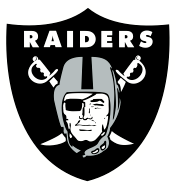 The Oakland Raiders have played some of the greatest games in NFL history at Oakland-Alameda County Coliseum. You won't want to miss a single first down…
---
Parking
Only pre-paid parking passes will be accepted in our main lots. Due to unprecedented demand, we have SOLD OUT of both parking passes and oversized vehicle parking passes.
There is cash parking available in the Malibu parking lot, which is located beyond the South lot. Parking in this lot is available on a first come first serve basis.
Car – $35 (City-imposed parking tax included)
RV/Limo/Bus – $75 Parking for these vehicles must be obtained in advance through the Oakland Raiders (City-imposed parking tax included.)
Now accepting Visa, MasterCard, American Express and Discover Card at payment for parking.
Parking gates open 5 hours prior to game start time.
---
Doors Open
For Club and Suite-Holders: 3 hours prior to kick-off.
For General Public: 2 hours prior to kick-off.
---
Tailgating
Oakland-Alameda County Coliseum parking lots will close to the following activities immediately after kick-off:
Consumption or preparation of food or beverages
Use of televisions, computers or other devices to view or project broadcasts or video of any kind
Those participating in these activities are subject to ejection from the parking lot, revocation of game tickets, citation and/or arrest for trespassing.
For proper tailgating set up visit: tailgaterules.pdf
---
Security Procedures
Beginning this season, the NFL is requiring all NFL facilities to have a metal detection system in place at all stadium entry gates. Everyone will be subject to security screening of property and person, including metal detection, prior to entering the stadium.
---
Bag Policy
Click here to view the NFL Bag Policy Video
Clear plastic tote bags measuring no larger than 12" x 6" x 12 are permitted
Clear plastic freezer bags no larger than 1 gallon are also permitted
Non-clear bags smaller than 6.5" x 4.5" x 2" are also permitted
---
Alcohol Policy
Fans over the age of 21 must have a valid ID to purchase alcohol at Oakland-Alameda County Coliseum. At all games beginning before 4:00 PM alcohol will be served through the 3rd quarter. All games that begin after 4:00 PM will have an alcohol cut off time at the completion of half time. Alcohol is served in the Club and Suite areas throughout the game and closes one hour post-game.
---
Suites
Enjoy a Raiders game and entertain from the comfort of a luxury suite. Available on an annual or single game basis, Oakland-Alameda County Coliseum offers suites with size and price points to fit all needs. Your suite also includes: VIP services and amenities, access to the private clubs, access to the premium suite level concourse, invitations to suite holder events, VIP parking and more. If you have any questions call 510.864.5022.
The Oakland Raiders
1220 Harbor Bay Parkway
Alameda, CA 94502
510.864.5000
Upcoming Games
December 2 - 1:05PM
AT Oakland-Alameda County Coliseum
December 9 - 5:20PM
AT Oakland-Alameda County Coliseum
December 24 - 5:15PM
AT Oakland-Alameda County Coliseum